There are Different Types Of French Fries! Are you a lover of French fries? Who isn't! Fries are world-famous for accompanying your cheeseburgers in addition to pickles, but these days, they go with nearly everything, and did you know there are many different types of French fries!
Fries can even be served as a main course and are consumed by kids of all ages, so it's always a good idea to know how to whip them up at home, and there are actually 30 types of fries you can enjoy making it one very versatile food.
If you want to know more, get your fries skills to the next level and learn about all the different types and how to make the best out of your fries at home.
Types Of French Fries
The trick about fries is their ingredients, How to Dice a Potato for a specific recipe, and other sides you may add.
Regular Fries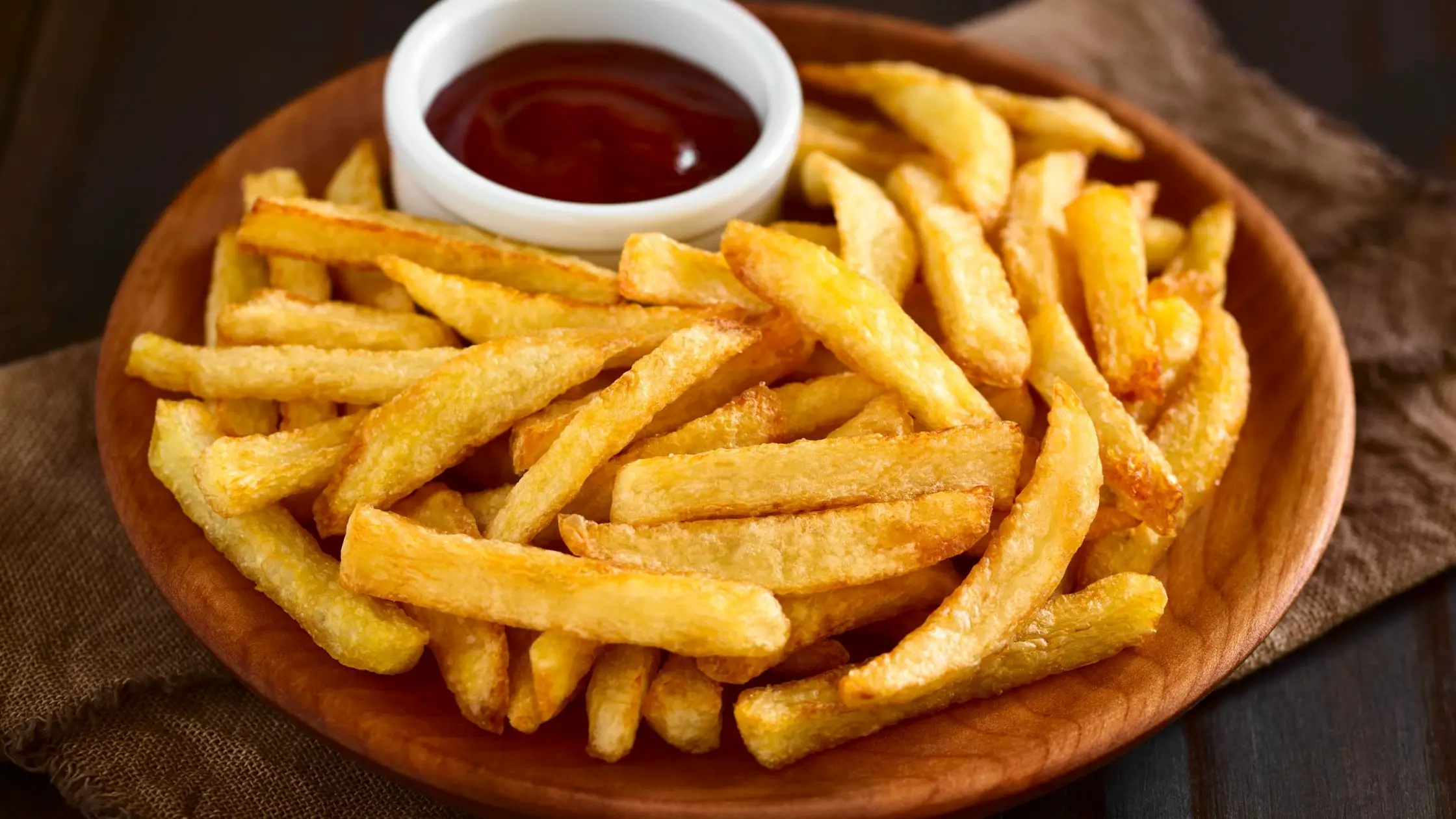 You've eaten regular fries your whole life, commonly found in any fast food joint across the country. These are regularly cut to a medium diameter, fried in good old regular oil—Squishy and velvety in the middle and cooked with regular salt.
---
Steak Fries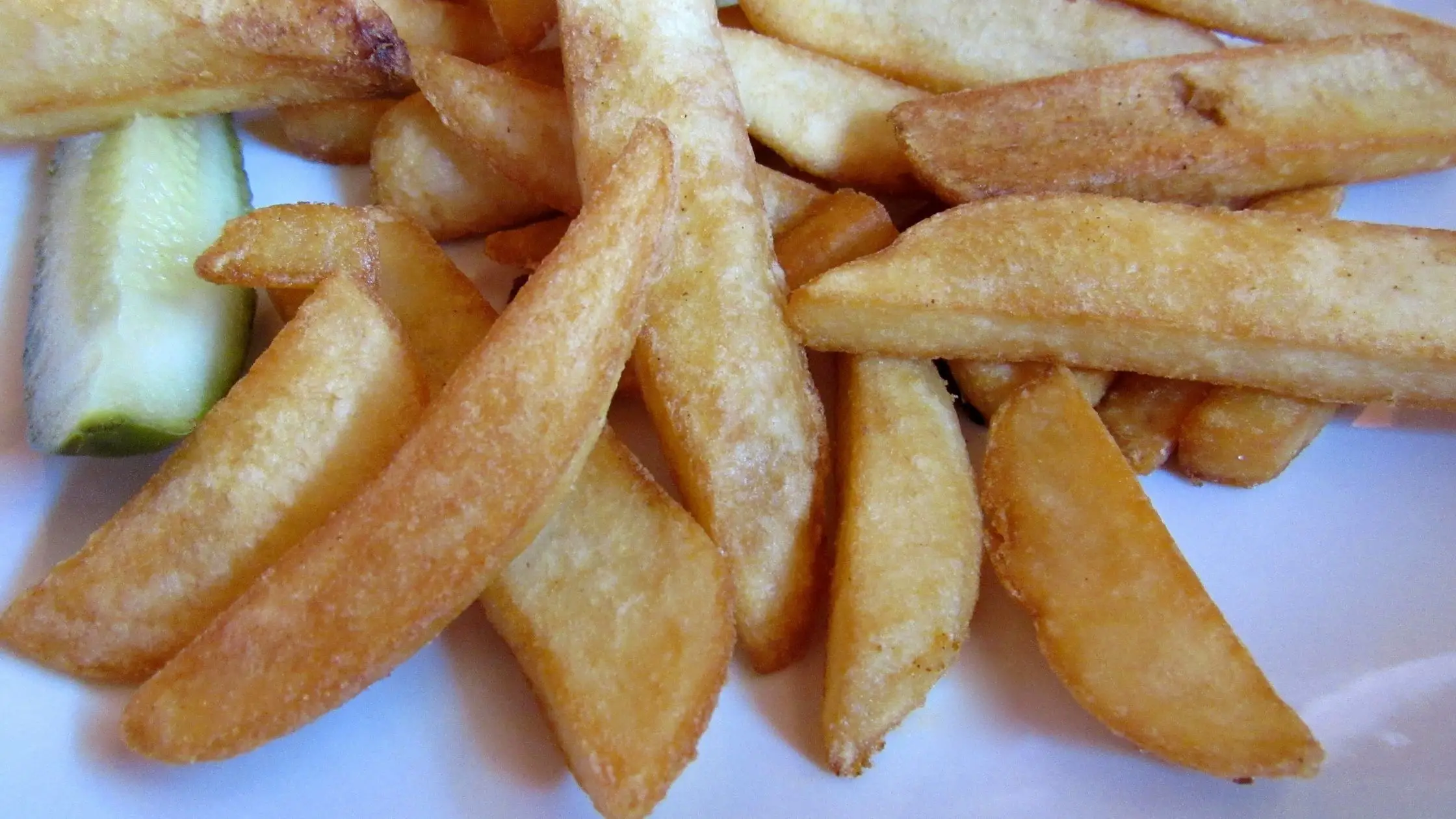 Steak fries have a slab-like shape that's great for dipping; these are crisped to perfection, making them tender and airy inside, simply delightful.
---
Shoestring Fries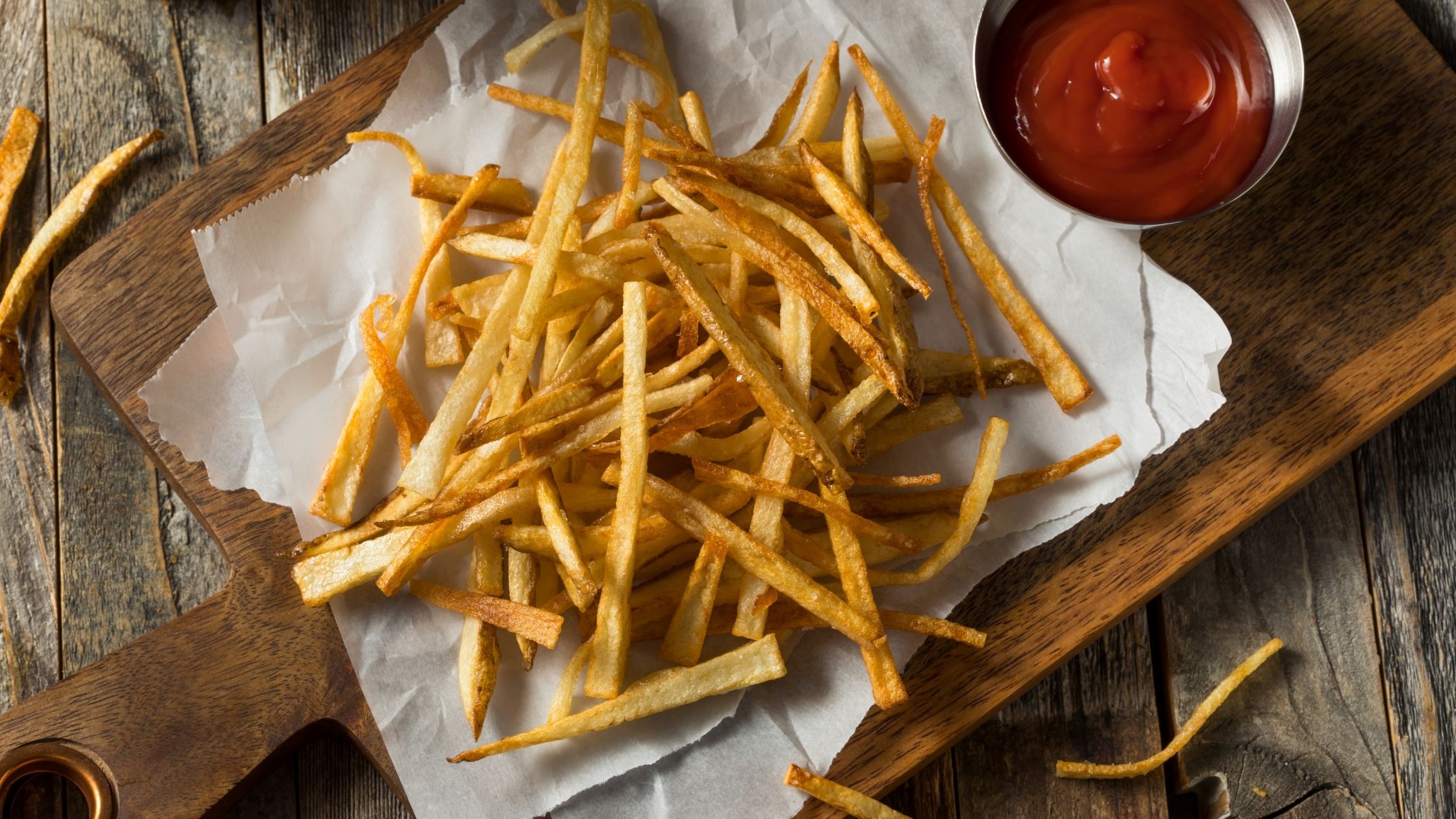 These receive their name because they are regularly less than 1/8 inch and quite long. They may get a bit twisted; an intertwined bunch is often served as a side dish. You can perfectly make these at home with the help of a mandolin.
---
Matchstick Fries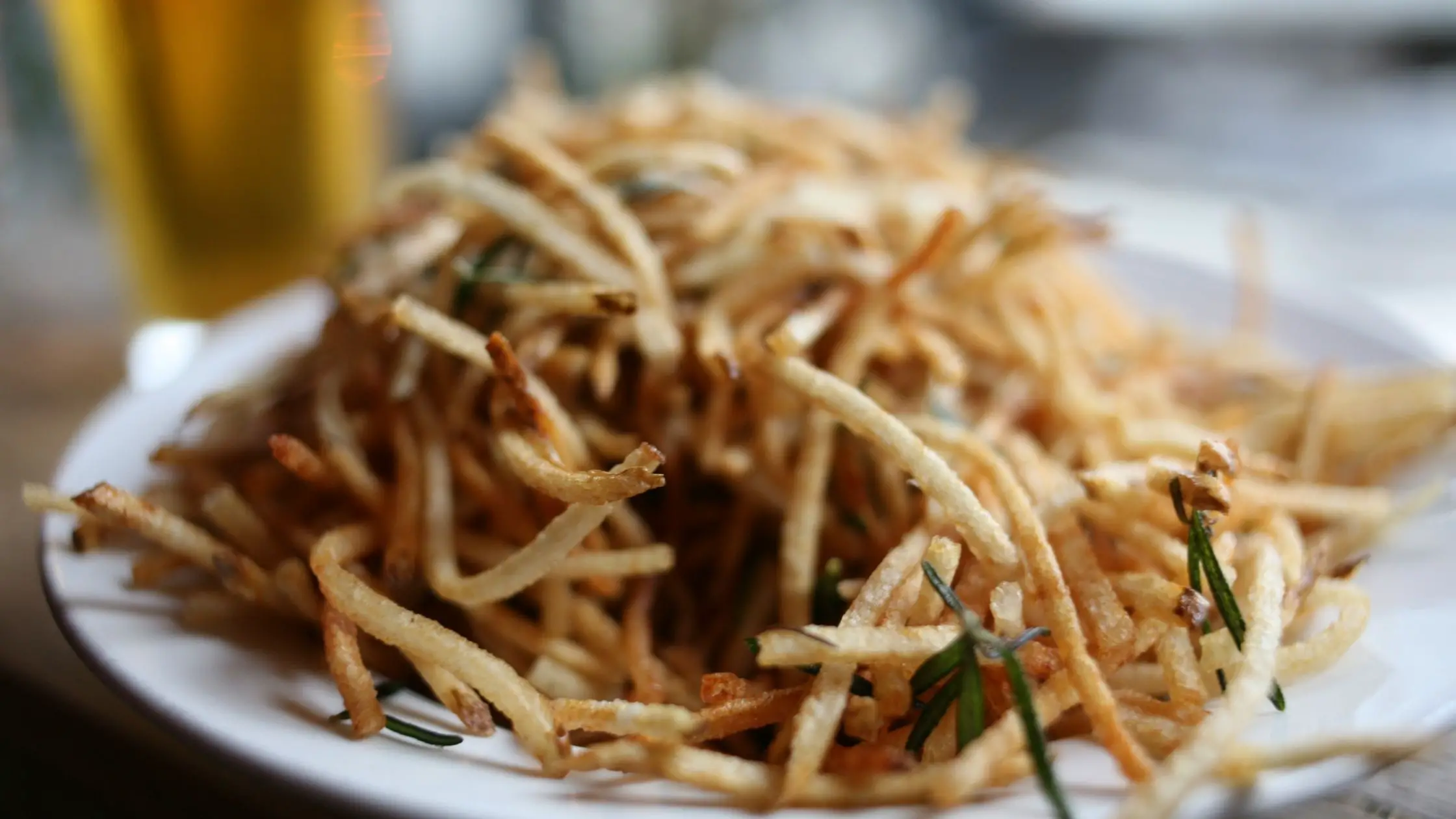 ---
Crinkle-Cut Fries
Imagine regular fries but with their edges in a wavy form. You can often find these while dining outside or buy them frozen from the grocery store. These can be fried or bake,d and you can make them at home using a special cutting blade.
---
Waffle-Cut Fries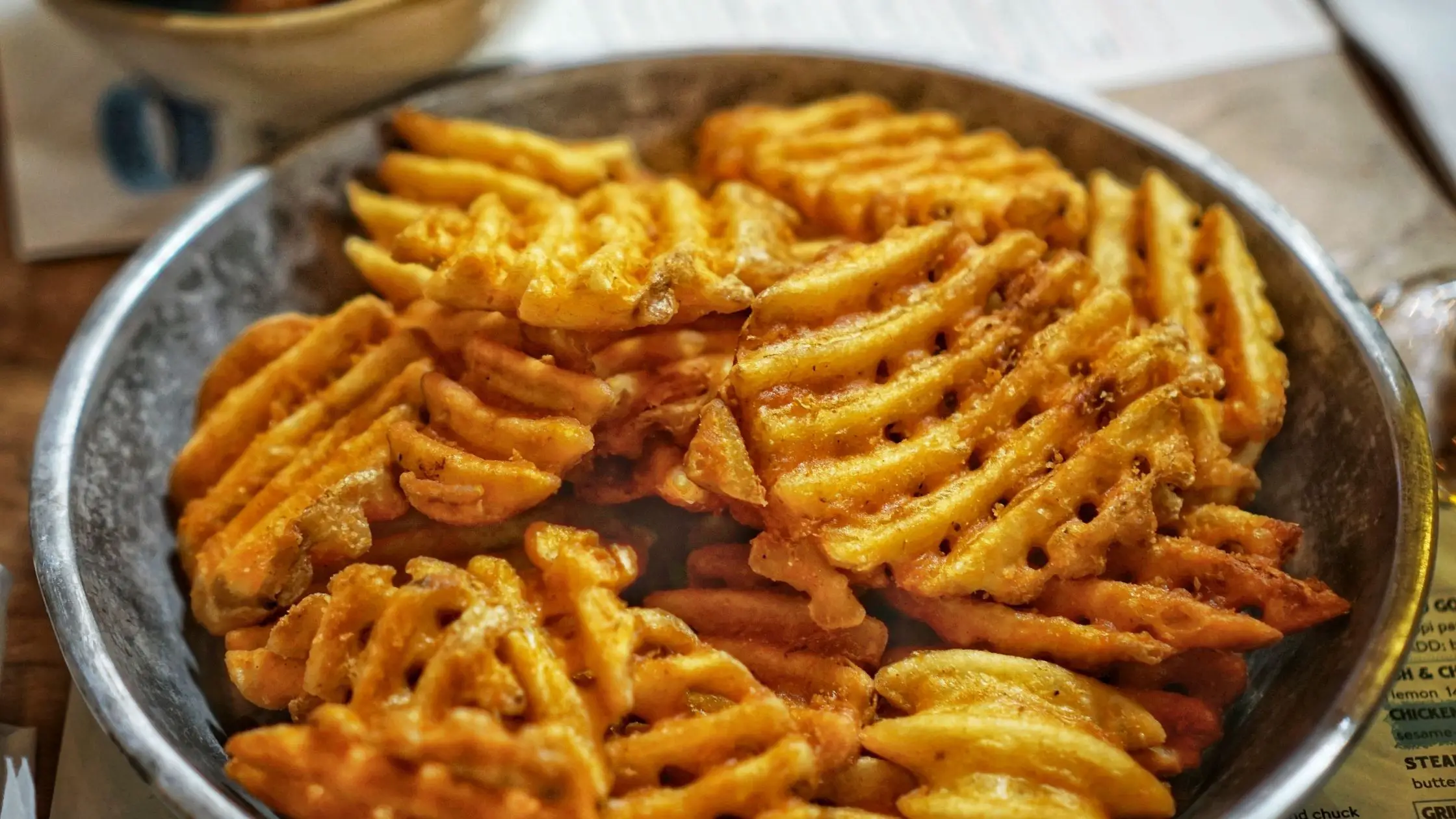 Waffle cut is just like the name sounds, and these are really popular with the little ones because their shape resembles a waffle and is really fun to look at. These often come with the potato skin still on, but you could also peel it if you'd like.
---
Wedges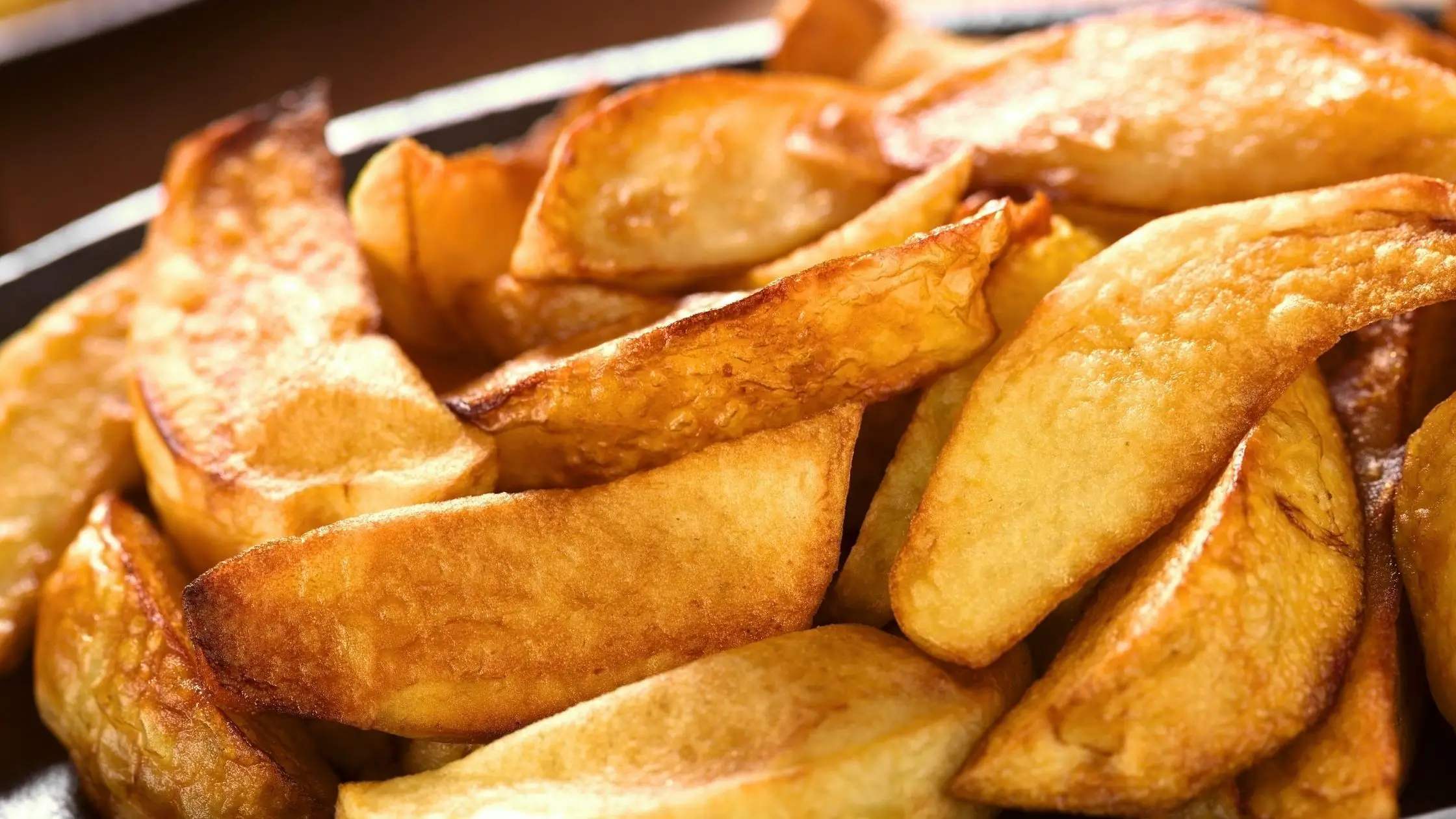 These are the largest and heaviest of all the French fries varieties. Potatoes are cut into three-cornered shape pieces and flavored before being deep-fried or baked.
---
Tater Tots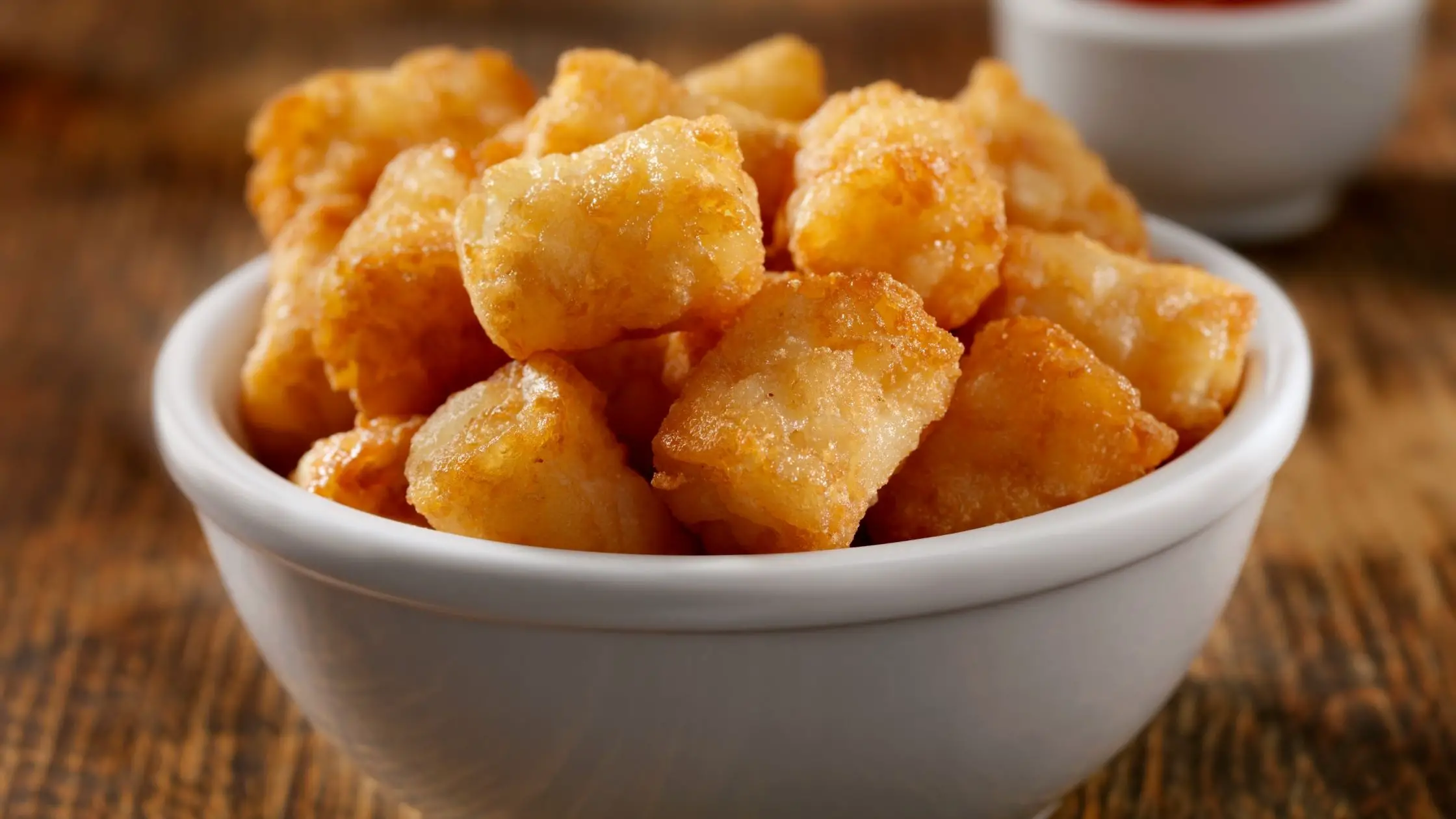 Anybody famously loves these; Tater Tots (technically a trademark of Ore-Ida) are the perfect bite-sized potato fried. These can be shallow-fried or deep-fried; if you get the frozen type, you can bake them. You can make these at home, but parboiling the potatoes and reducing them to the signature tater tots' shape and size is quite the hassle.
---
Cottage Fries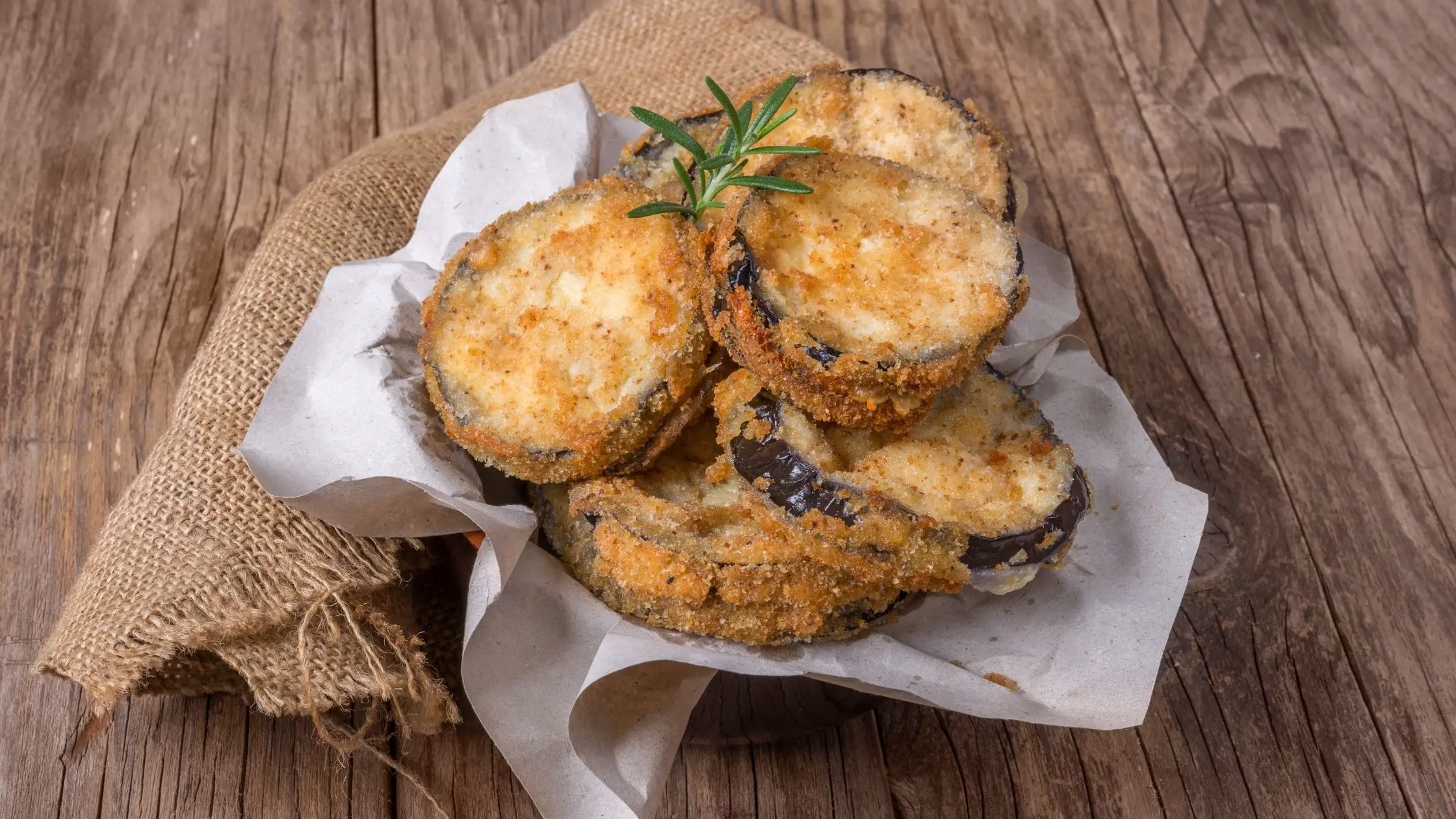 This type is also called home fries or round-cut fries. These are typically cut in flattened discs from the whole potato. Leaving the skin or not is optional; you can make them as thin or thick as you want. Again you can, deep-fried them, shallow-fry or bake.
---
Sweet Potato Fries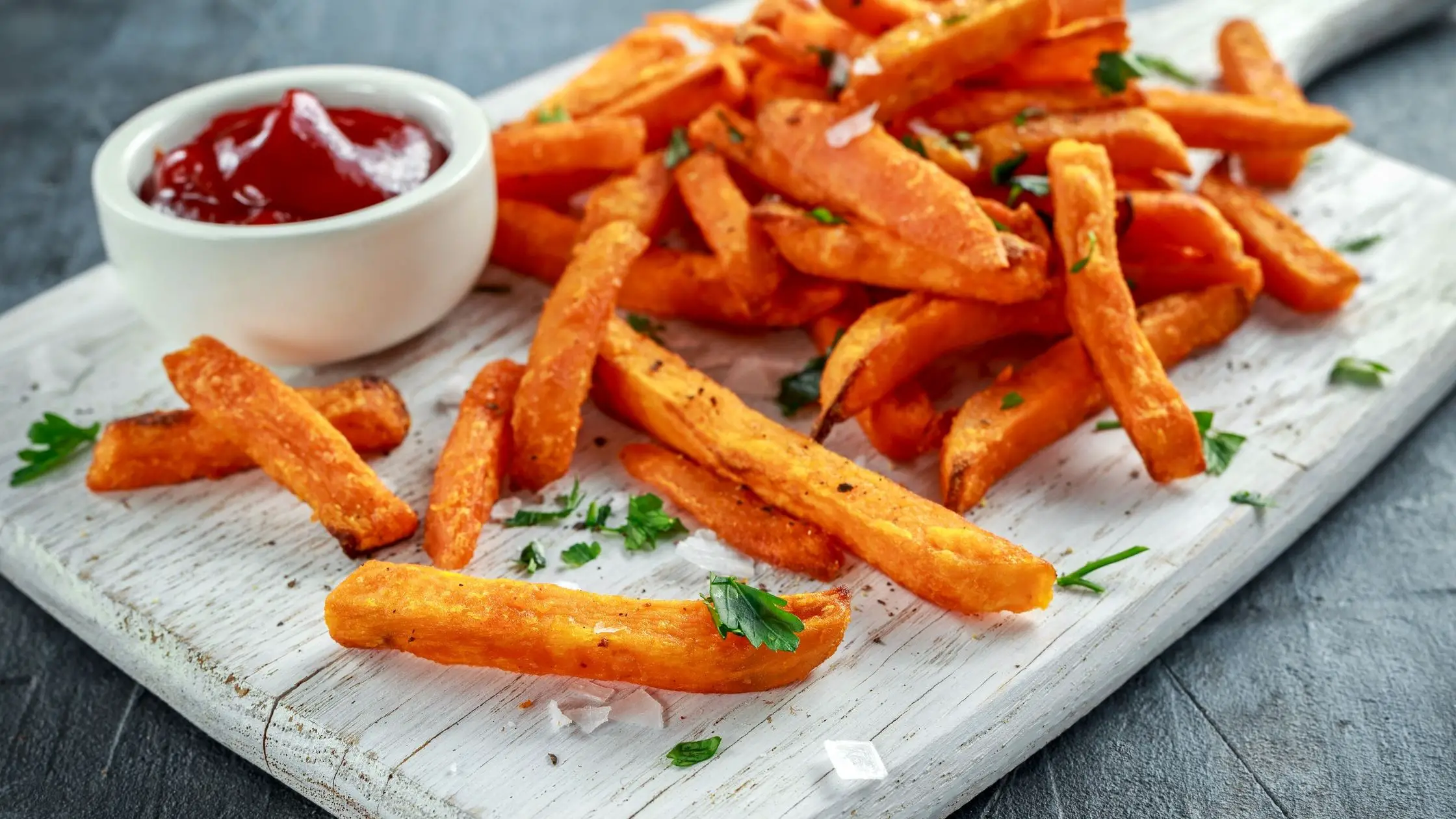 Yams or sweet potatoes provide a sweet taste for those sweet craving palates, and though these are not as crisp as the white potato fries, these offer more nutrition and a buttery and delicious texture. Would you like to know How to Harvest Sweet Potatoes?
---
Chips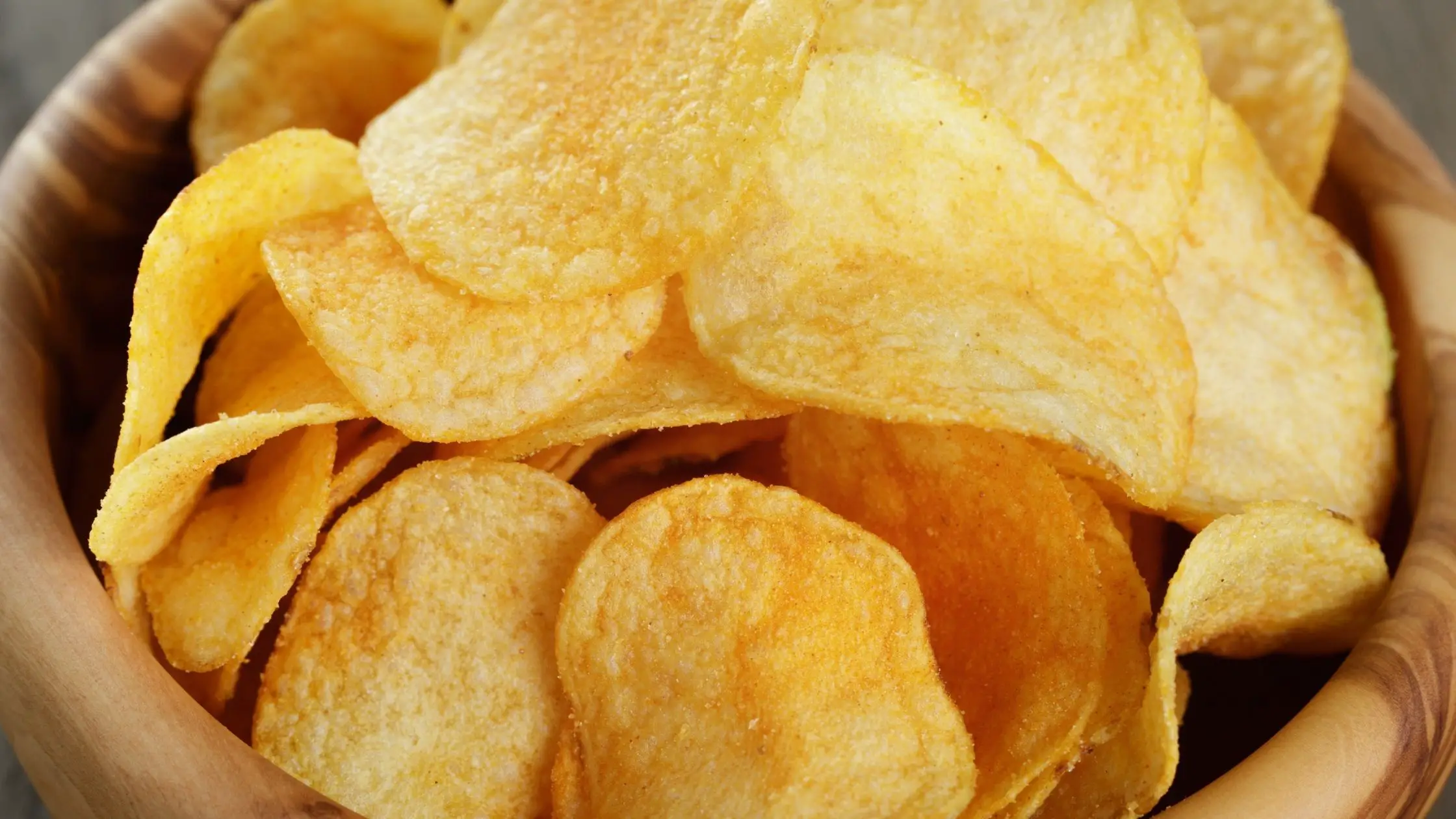 Meet the narrowest, crunchiest fries of all. Chips are paper-thin; you've probably enjoyed them from a bag before. However, you can also whip these babies up at home with the help of a mandolin, of course. These are better when fried in blistering canola, vegetable, peanut, or corn oil for crispiness purposes.
---
Curly Fries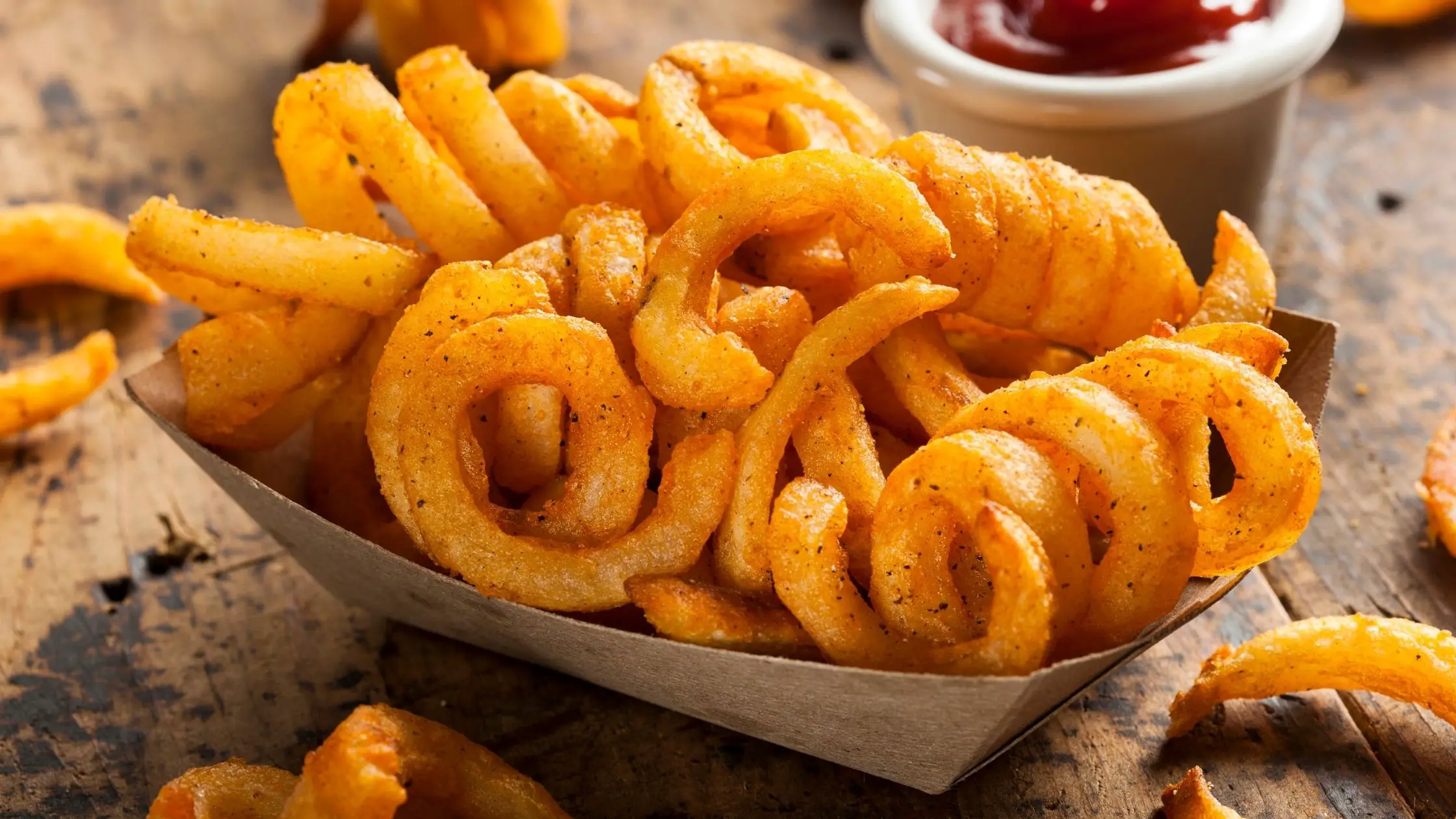 Curly fries are world-famous; these are potatoes cut into a twist-like shape and seasoned before deep-frying. The best part, you don't have to go out to enjoy these with so many tools available to make them at home.
---
Chip Shop Chips
Chips are the way the British called their French fries; the chip shop chips are commonly served with fried battered fish or sausage. These are typically short in size, thick with a soft interior, and crunchiness texture in the exterior. Malt vinegar and salt are used for flavor.
---
Home Fries
Home fries are blocks of potato sliced irregularly and more likely with the rind still on. These can be deep-fried or shallow-fried. Home fries can be enjoyed 24/7, but most prefer to have them paired with bacon and eggs during breakfast.
---
Oven-baked Fries
If you are watching your weight, then baking your fries instead of deep-frying is the way to go. That said, to achieve desirable crispiness, you'll have to sprinkle some oil on top of your fries.
---
Bistro Fries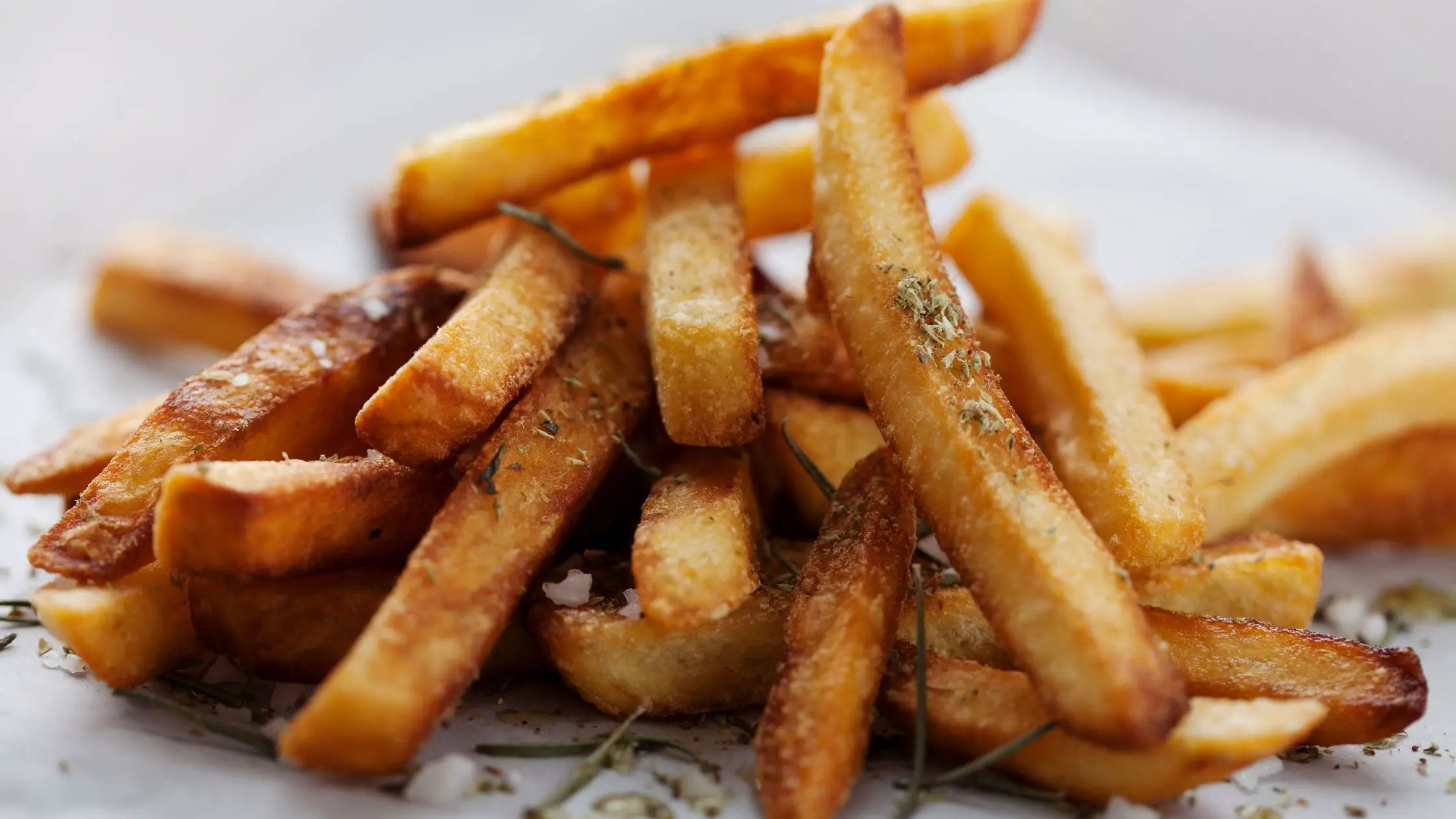 This type of fries is just a fancy way Belgian and French bistros have to offer their fries. There's no exact term to define bistro fries; these are usually medium in size and length and offer the right flavor and texture combination, crunchy on the exterior and fluffy on the interior.
---
Boardwalk Fries
Boardwalk fries are a simple take on French fries, only seasoned with salt and vinegar; these are cut in medium size and deep-fried twice at different temperatures. These are usually consumed as hot and crunchy as they come. They get their name from the boardwalk of Ocean City, Maryland -where they became famous.
---
Tornado Fries
These are quite attractive to look at and somewhat of a work of art. These are not recommendable to make at home since tornado fries are usually found at fairs. The potato is cut into a spiral, skewered, and deep-fried.
---
Pommes Souffles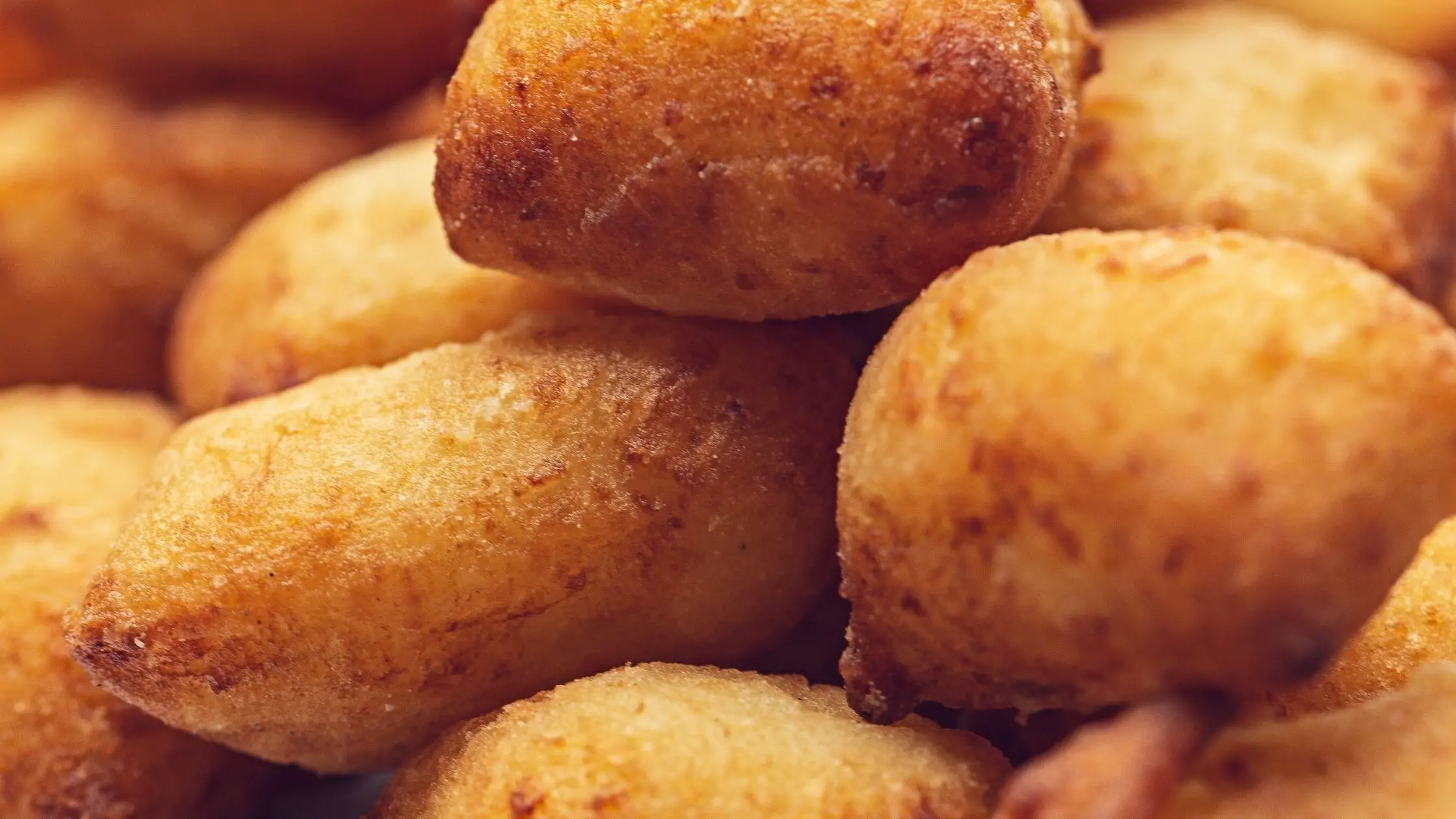 Pomme Suffles are another stylish way to present your fries; you begin with deep-fried potato slices a couple of times, which makes them puff up and give them a balloon-like shape.
---
Seasoned Fries
This type of French fry is characterized by being flavored before being served. Seasoning includes black pepper, Cajun spice, seasoned salt, or Old Bay.
---
Garlic Fries
Just in case you want to elevate your fries game to the next level, garlic fries are always a good idea to do so! Just make your fries as you'd regularly do and add minced garlic for a whole new flavor. Parmesan and parsley are also typically used in this recipe.
---
Truffle Fries
This type of fries is considered the most luxurious since they are found in high-end restaurants. Truffle fries are nothing more than fries that are topped with fresh truffle zest or sprinkled with truffle oil; these are often served with Parmesan and parsley.
---
Animal-style Fries
These are exclusive of the In 'n' Out menus; these are fries topped with shredded cheese, grilled onions, and house sauce. You can easily make your own version at home.
---
Cheese Fries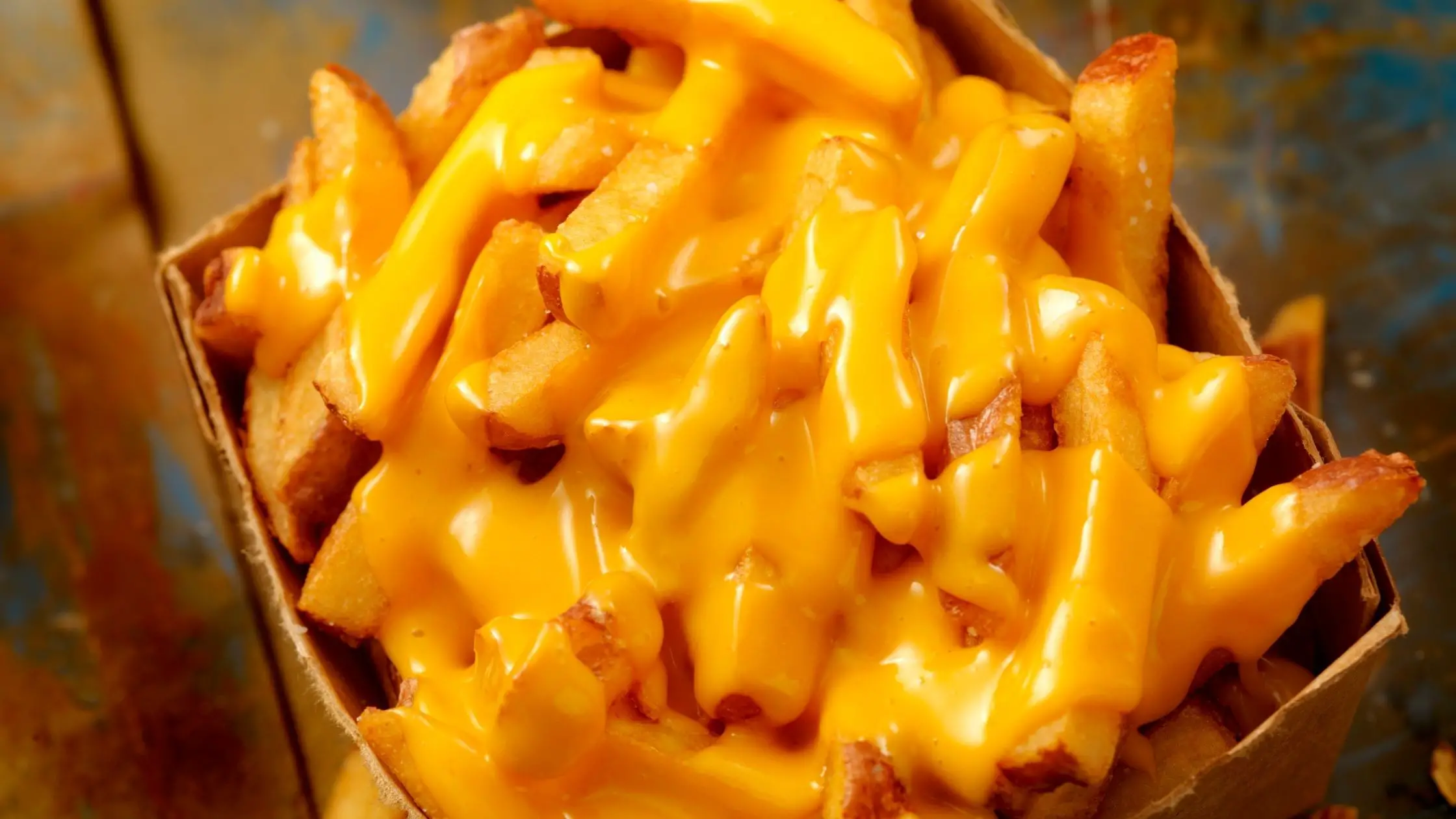 As the name indicates, these are fries topped with melted and gooey, delicious cheese. Cheddar, Parmesan, Gruyere, and Jack are suitable options to get your cheese situation to melt just right.
---
Chili Cheese Fries
If you enjoy cheese fries, add flavorful chili to the next level. You could choose from vegetarian chili, beef, or turkey or even make your own. Common toppings include hot sauce and onions. Though it sounds messy, it is certainly worth it.
---
Poutine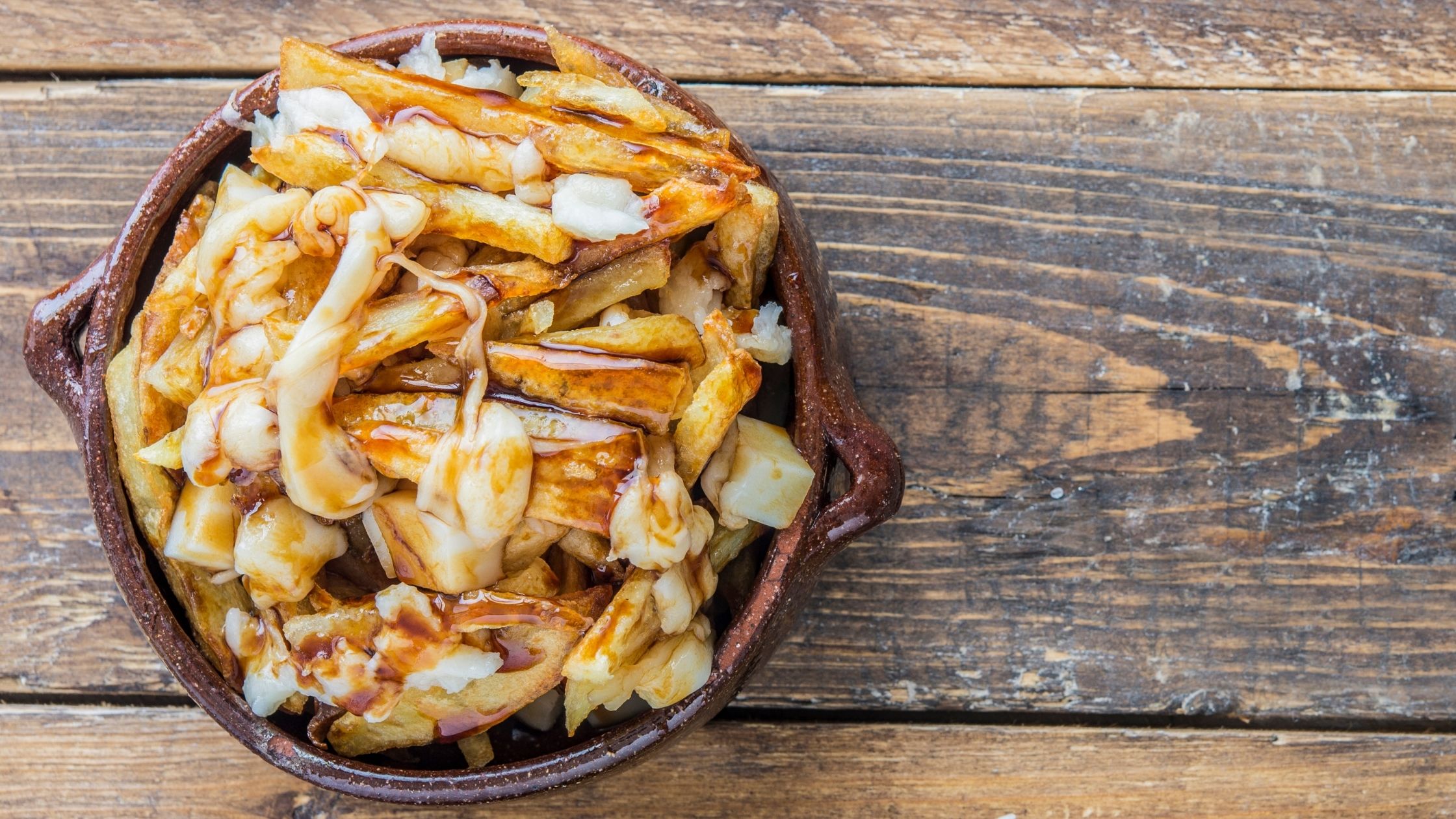 This is a French fries dish originally from Quebec. It consists of normal French fries, fresh cheese curds, and gravy.
---
Patatas Bravas
This dish is typically served in Spain as tapas; it consists of big potato pieces that are par-boiled and deep-fried. These are served with spicy tomato sauce.
---
Potato Skins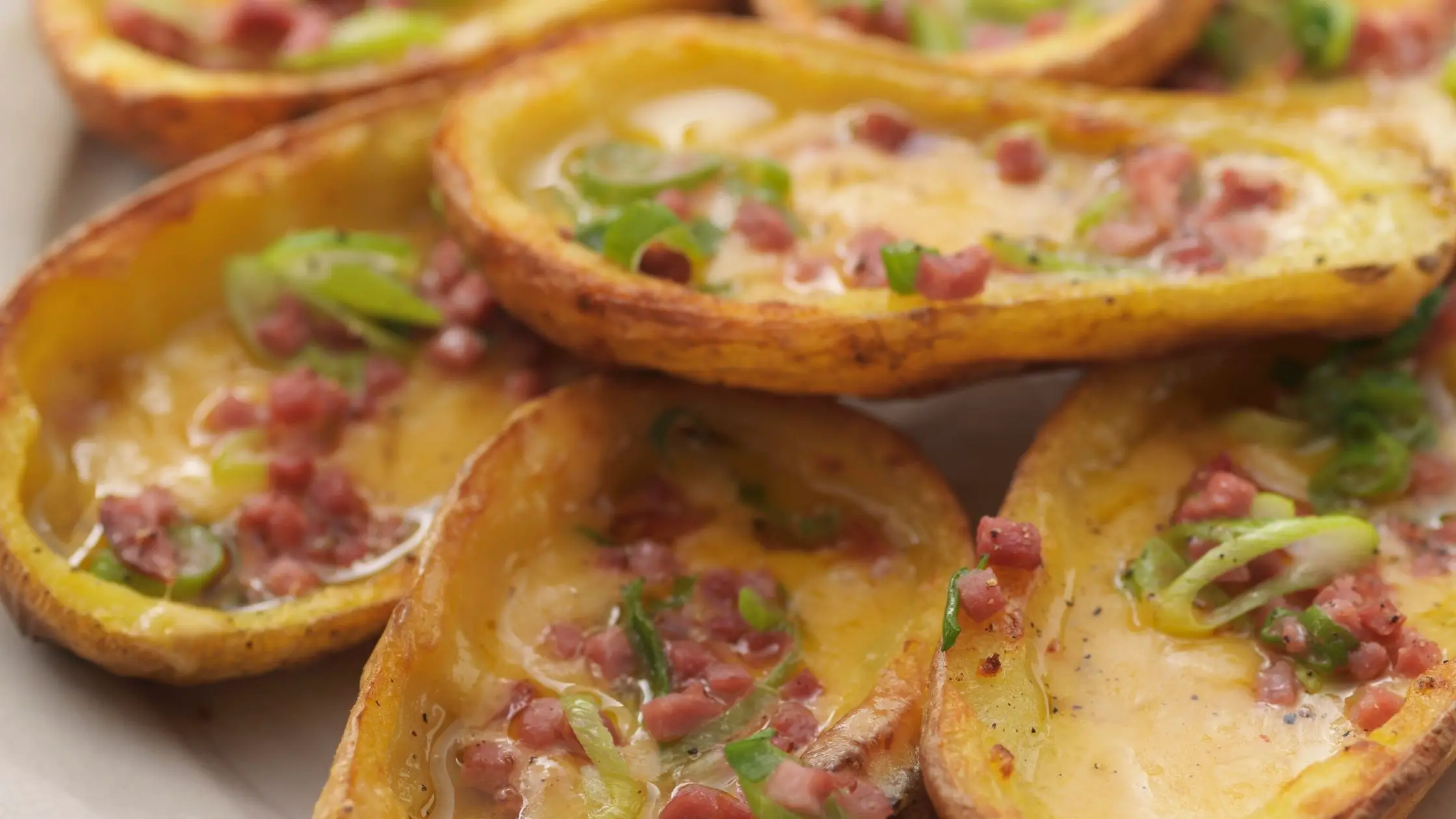 Ever felt like your potato peels could still be used? That's how potato skins came to be. Instead of throwing those away, deep-fry them until they're crisp. These can be enjoyed with numerous toppings and make a fantastic appetizer.
---
Carne Asada Fries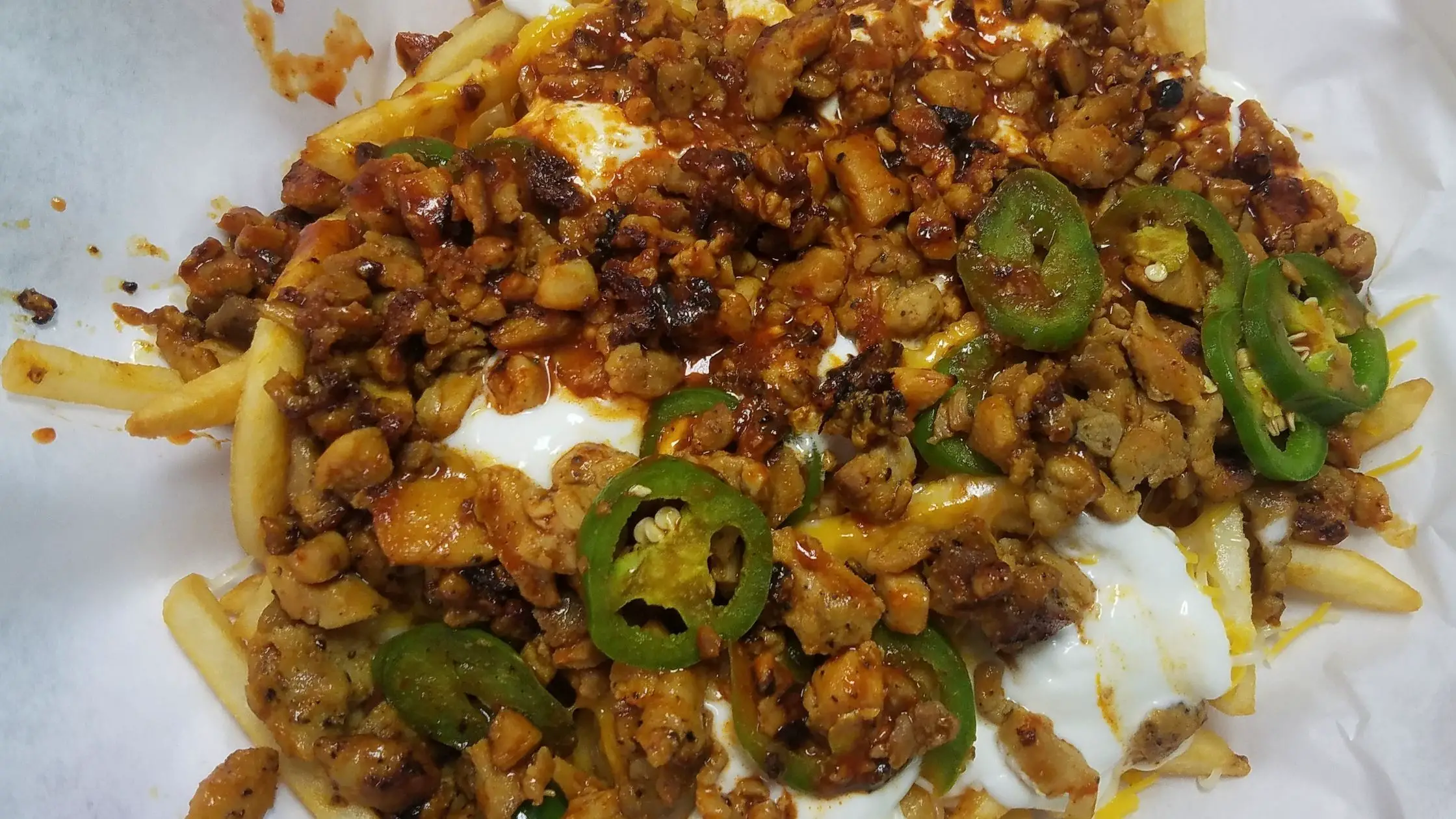 This is a Mexican dish in which French fries are served, topped with thinly sliced steak and cheese. Other toppings may include guacamole, salsa, and sour cream. All the ingredients combined can also be made into a burrito.
---
Patatje Oorlog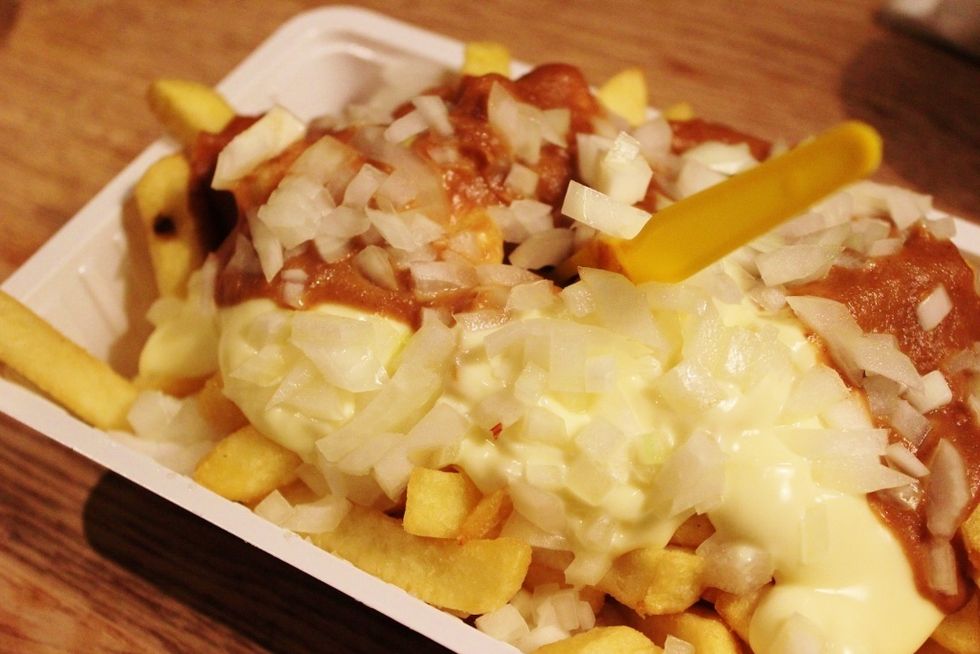 This is a typical item on a Belgium menu and can be translated to 'war fries.' This is a unique blend of fries with mayonnaise, Indonesian-style satay sauce, and raw onions.
---
How To Keep French Fries Fresh?
Cooked fries should be thrown away if left out for over 2 hours at room temperature.
If you have leftover fries, you should keep these in the refrigerator. Once they are completely cooled down, they should be stored immediately in the fridge. The same goes for purchased fries.
If you have cut-up potato fries, you can store these in the fridge. Please place them in a container and cover them completely with plain, unsalted water. They should be fine for at least 2 or 3 days.
How To Store French Fries, So They Stay Fresh For Longer
To extend the freshness of cooked fries, refrigerate them in a shallow airtight container or wrap them tightly with aluminum foil. Plastic wrap also works; properly stored, cooked French fries will last 3 to 5 days in the refrigerator.
To further extend the shelf life of cooked French fries, freeze them in covered airtight containers or heavy-duty freezer bags, or wrap them tightly with heavy-duty aluminum foil or freezer wrap. For quality purposes, these should be consumed within 10-12 months but will remain safe beyond that time.
Can You Freeze French Fries?
You absolutely can freeze raw French fries; that said, it takes quite the effort to do it, but many find it worthwhile since it's cheaper than getting the frozen fries from the grocery and since you have total control over the ingredients. Frozen fries can be stored in the freezer for up to 6 months.
To freeze your fries follow the steps:
Scrub your potatoes, peel, rinse well
Dry your potatoes using a kitchen towel
Cut your potatoes into French fry shape
Blanch your fries
Dunk the blanched fries into a bowl of iced water to prevent overcooking
Spread the fried-out into an even layer on a baking sheet to freeze
Once frozen, move frozen fries to a zip-top freezer bag for longer storage
What To Do With French Fries Before They Go Bad
If you notice any changes in appearance or smell in your cooked French fries, you should discard them even if you have them in the fridge. But before that happens, you can enjoy your yummy French fries in many ways. Check out below some of our favorite French fries recipe ideas.
5 Best French Fries Cutters You Need to Know About
If. you are interested in making your own french fries in the comfort of your kitchen, you can do either using a knife, or even better with a french fries cutter, this are the top 5 in the market right now
It features:
Made of high quality stainless steel, robust, restaurant-grade blade engineered for years of use., slice fast and easy to use, just with little effort for cutting the potato, carrots, cucumbers, eggplant, onion into 1/2 inch thick strip.
Extended handle makes everything easier to make homemade fries. With a single lever action you can squeeze through potatoes with ease.
The cutter box can takes 5.58*3.51inch potatoes, the capacity of this cutter is big enough for most potatoes, sweet potatoes and other vegetables. Cuts the entire potato in one go.
Cuts fries in 1/2″ pieces. Also great for zucchinis, cucumbers and other vegetables, fruits into perfectly shaped sticks in seconds. Create stunning French fries, sweet potato fries, etc. For thinner 3/8 Inch blade, you may check the asin:B07MK28WBH.
Unlike commercial French fry cutter in the market, which takes too much space, this potato cutter has small volume as well as commercial grade quality. Easy to clean with water, never be worried about rinsing and rust, use the cutter easily.
---
It features:
Heavy-duty cast-iron body with stainless steel components
Suction feet for use on smooth counter tops
Can be permanently mounted on a countertop or wall
Easily cuts potatoes up to 6″ long into 1/2″ french fries
Makes french fries, sweet potato fries, zucchini sticks and other favorites.
---
It Features:
Now you can get restaurant-quality fries right at home! Comes with two interchangeable blades that perfectly cut 1/2″ thick or 3/8″ thin – 3″ long pieces of fries. Perfect at cutting potatoes, and carrots. Also, great for prepping vegetables like onions, zucchinis, cucumbers. NOT RECOMMENDED FOR SWEET POTATOES
Effortlessly prep your fries and vegetables. Our heavy-duty machine pulldown lever firmly presses your potato through the sharp stainless steel blades. Built with sturdy legs and suction cup base for optimal leverage while cutting. Simply place our French fries cutter machine on any flat smooth surface and lock in the suction cup to prevent slippage. Locking systems ensure the blades don't move while cutting for a consistent cut.
Compact design (10 inches by 5 inches) takes up minimal space in your kitchen. Stainless steel material and commercial grade lever are designed for years of use. Interchangeable blades can only be inserted one way preventing any unintentional misuse or damage. Dishwasher safe and can quickly be washed with soap and water.
Our Fry cutter is designed to easily prep fries at a perfect length for deep fryers and air fryers. At 3″ length per fry, you don't need to worry about fitting oversized fries in your fryer. Prepare fries for a snack, party, or dinner with ease.
We always thrive for 100% customer satisfaction. That's why offering a life-time warranty for this product was a no-brainer for us. If anything is not to your complete satisfaction, simply reach out to us and we will make it right! Guaranteed.
---
It Features:
Made of top quality stainless steel engineered for years of use. It also offers double side cutting, no need to worry about rusty blades, slice fast, and easy to use with little effort to cut potatoes into 3/8 inches.
This french fry cutter is designed with an extended handle and 4 anti-slip rubber tips, which helps effortless cutting. Plus, this potato slicer is also convenient for a mother to prepare french fries for their kids, better saving your time and money.
The french fry cutter is made of food grade ABS material, non-toxic and without BPA. Take fewer parts to clean, which helps to clean the food chopper under running water in seconds.
The potato cutter can make easy strip cutting in seconds, which is great for potatoes, carrots, cucumbers, onions and other vegetables. Enjoy getting professional fast cutting in your kitchen.
---
It Features:
Slice or dice fries, vegetables and fruits! Comes with two interchangeable blades that cut 1/2″ thick or 3/8″ thin pieces of fries and a removable knife guide insert for even dicing and cutting at any length. Perfect for slicing vegetables and fruits like potatoes, carrots, onions, zucchinis, cucumbers, apples and pears. NOT RECOMMENDED FOR SWEET POTATOES AND BEETS.
This great vegetable chopper dicer cuts food easily helping minimize prep time for French fries, salad bars, soups and other food prep requirements
Unlike other products that use a pulldown lever that requires a lot of strength, our product utilizes a unique effort saving ratchet action pusher system to move your vegetables and fruits gradually through the sharp stainless steel blades. Built with non-slip rubber feet base for optimal leverage while cutting.
Compact, lightweight design takes up minimal storage space in your kitchen. Top rack dishwasher safe and can quickly be washed with soap and water.
---
What are the Benefits of Types Of French Fries
One of the many benefits of Types Of French Fries is that they are a great source of fiber. A medium-sized serving of Types Of French Fries contains about 3 grams of fiber, which is about 12% of the recommended daily intake for men and 16% for women.
Fiber is important for digestive health and can help regulate blood sugar levels. Types Of French Fries are also a good source of potassium, vitamin C, and vitamin B6.
Features To Look for on Types Of French Fries
When it comes to Types Of French Fries, there are a few key features you should look for. The most important thing is that the fries are crispy. This can be difficult to achieve with frozen fries, so it's best to look for restaurants that specialize in french fries. Another thing to look for is whether the fry sauce is made in house.
Most good fry sauces contain mayo, ketchup, and pickles, so if the restaurant doesn't make their own sauce, it's likely not going to be very good. Finally, you'll want to make sure the fries are a good size. Too small and they'll be difficult to eat, too large and they'll be overwhelming.
Types Of French Fries can vary greatly in quality, so it's important to know what to look for when seeking out the perfect plate of fries. Here are three key features to keep an eye out for:
Crispiness: This is the most important factor when it comes to Types Of French Fries. If the fries aren't crispy, they're not worth eating.
Fry Sauce: A good fry sauce is essential to a great plate of fries. Most sauces contain mayonnaise, ketchup, and pickles, but the best sauces are made in-house by the restaurant.
Size: The perfect size for a french fry is somewhere in between too small and too large. If they're too small, they'll be difficult to eat, and if they're too large, they'll be overwhelming.
How to Choose Different Types Of French Fries
When it comes to French fries, there are endless possibilities. You can choose from a variety of different types of potatoes, as well as a variety of different toppings and sauces. Here are a few tips on how to choose the right type of French fries for you:
If you're looking for a classic French fry, opt for a russet potato. They have a fluffy texture and a slightly sweet flavor.
If you're looking for something with more flavor, try using a Yukon Gold potato instead. They have a creamy texture and a slightly earthy flavor.
If you're looking for something extra crispy, try using a thin-cut potato.
If you're looking to add some extra flavor to your French fries, try using one of the many different toppings or sauces available. Some of our favorites include garlic aioli, ranch dressing, or melted cheese.
Additional Questions About Types Of French Fries
What is the best style of French fry?
There are many French fries, but the best style of French fry is the one you like the best. Some people prefer thin fries, while others prefer thick fries. Some people like crispy fries, while others like them soft and fluffy. The best style of French fry is the one that you enjoy eating the most!
What are fancy French fries called?
Pommes Frites. They are usually thicker than regular fries, and are cut into longer strips.
What are waffle fries?
Waffle fries are made from potatoes that have been peeled and cut into a square shape. They are then fried in hot oil until they turn golden brown.
What is the difference between sweet potato fries and regular fries?
Sweet potato fries are made from, you guessed it, sweet potatoes! They can be either baked or fried, and are often served with a dipping sauce such as ketchup or ranch dressing. Regular fries are made from russet potatoes, which are peeled and cut into thin strips before being fried.
What Are the different Types of French fries flavors?
There are many different Types Of French fries flavours. Some of the most popular include:
Salt and vinegar
Cheese and onion
Curry
Ketchup
Mayo
Sweet chili sauce
BBQ sauce
Honey and mustard
Spicy tomato sauce
What is the difference between curly fries and regular fries?
Curly fries are made from potatoes that have been peeled and cut into thin strips. They are then fried in hot oil until they turn golden brown. Regular fries are made from potatoes that have been peeled and cut into thin strips. They are then fried in hot oil until they turn golden brown.
What is the difference between shoestring fries and regular fries?
Shoestring fries are made from potatoes that have been peeled and cut into thin, string-like strips. They are then fried in hot oil until they turn golden brown. Regular fries are made from potatoes that have been peeled and cut into thin strips. They are then fried in hot oil until they turn golden brown.